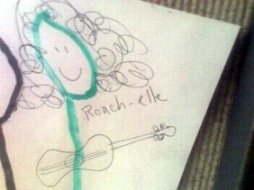 Monday -- 10:00 AM - 03:00 PM
Tuesday -- 10:00 AM - 03:00 PM
Wednesday -- 10:00 AM - 03:00 PM
Thursday -- 10:00 AM - 03:00 PM
Friday -- 10:00 AM - 03:00 PM
Saturday -- 12:00 PM - 06:00 PM
She has one of the most recognizable voices in the Treasure Valley. She also has one of the deepest musical backgrounds in terms of her experience at various radio stations and her own work as a musician. She's invaluable to us here at the River.
Rochelle has been involved with nearly all of the special River Sessions we have hosted over the past six or seven years. Whether interviewing the artists or mixing their performances for re-broadcast, she has been instrumental in bringing these special moments to you, our listener. Rochelle has compiled five of her personal favorite performances to share with you, along with observations about each artist.
Nickelcreek – Tommorow Is A Long Time (Bob Dylan song). Sarah's sweetness and crystal vocals are captured here. I can see them huddled as they played it. I watched this and hoped it truly wouldn't be their last tour.
Barenaked Ladies – BNL Medley. The yin/yang of BNL as they play a serious song and incorporate humor in the middle, with references to their very chilly adventure on the Boise river that day.
Anna Nalick – Breathe. Fresh new and beautiful voice. She was real, forgot some words to one of her songs and said she thought she wasn't a very good guitar player. Really friendly and genuine.
Lyle Lovett – West Texas Highway. My FAVORITE all time in-studio song. Lyle's charisma, respect, and charm is unbelievable. I love this recording for all of the rich elements of vocals, bass, all the way down to hearing Lyle's voice trail out and the bow slide across the creaking strings at the very end of the song.
Patty Griffin – Wiggly Fingers. We wondered who this artist was when she opened at the first Lilith Fair. She was about 5 feet tall, tiny thing with hollow eyes and very quiet. Then, she did THIS song. She closed her eyes and spun around, the band played percussion with their hands hitting the table. Patty wailed the final note with her closed eyes to the sky. My program director and I looked at each other through the windows and across the hallway where I was mixing it, both of us with eyes and mouths wide open at what we had just heard. Goosebumps.
My favorite thing about mixing bands is watching what they do outside of the performance. Lisa Loeb was reading Ayn Rand. Jason Mraz really IS that funny and brilliant. Ben Taylor is a huge lady's man and flirt. Margo Timmons prefers to pass time before the interview by knitting scarves. Michelle Malone didn't know I saw her pull a picture of someone she loved from home, out of her guitar case before she played. I was curious who could be so special. Emmylou Harris had an electronic device to check on baseball scores-WHO KNEW?! I've seen hard rock bands with the roughest looking singers sharing the most incredible sensitive lyrics that made me question which image was real. I remember the tension between the members of Toad the Wet Sprocket just weeks before the band broke up, and they argued about how their web page should look. At a sound check, the guys in the Grateful Dead couldn't remember how their songs went, and they were all mad at each other until showtime. And, could someone BESIDES Chris Thile from Nickelcreek answer one of the questions, please? Who put a nickel in him? Pun intended. Also a reminder why Pat Monahan is perhaps now doing a solo tour. All is not as it seems on the radio, and this is the secret world I love.
Rochelle