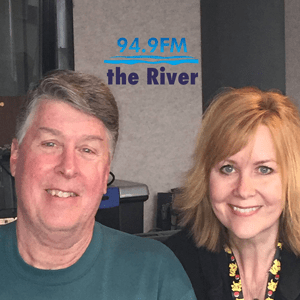 River Mornings with Ken & Deb
MONDAY to FRIDAY -- 06:00 AM - 10:00 AM
Weekdays 6:00 AM – 10:00 AM
River Mornings and Sunday Mornings.

Ken co-hosts the The River's morning show with Debbie Courson Smith and has been in Boise since 1985. He also likes to read, watch new and classic films, listen to new and classic music, spend time in Idaho's great outdoors and just hang with his beautiful wife, Michelle and their gang of young'un's: Jaron, Marisa, Ethan, and Autumn.

Debbie began her radio career in Weiser, Idaho, somewhere in the '80s. She took her big hair and suitcase to Boise and co-hosted top-rated CHR and news-talk morning shows through the early 2000s. Then, life happened and she worked from home as a managing editor and producer for national and regional news networks, until her daughter became a teen and didn't need her anymore. Hello, 94.9 FM, the River!

Debbie is a Boise State University grad (English/Communication), Advanced Master Gardener, fairy garden coach, certified monarch butterfly tagger, and co-owner of Ugly Gold Couch Pinball Clubhouse in Garden City. She and her husband Dwayne Smith are the founders of Treasure Valley Pinball, hosting pinball tournaments each month – keeping the '70s and '80s alive!