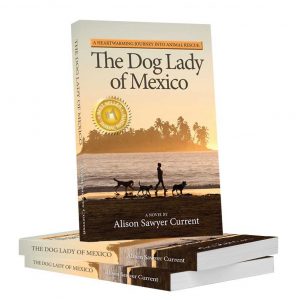 Take a journey to Isla Mujeres, Mexico, with the warmth and wisdom of animal lover Alison Sawyer Current. A visit to Mexico changed her entire life, she ended up selling nearly everything she owned to start an animal rescue and non-profit.
In this podcast, you'll learn of the selfless dedication this author has taken, and still takes, to rescue dogs all over the world. She would like to raise $500 in monthly donations by her 66 birthday on April 26. Just hit monthly under donations on the web site. Every penny will go to help one of these incredible animals. The Dog Lady of Mexico has a 5-star review on Amazon, and is 10 years in the making. Pick up a copy today to warm your heart, give you inspiration, and help more animals survive. You might find yourself volunteering at Isla Mujeres.
Alison would like you to know it is 1200 dogs, not 12,000 spayed  in a month, as was mentioned in our conversation.
Listen to our podcast below.
Rochelle interviews author Alison Sawyer Curr...
Session Chatter Podcasts