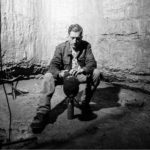 I was up late last night backing up some audio/video files. Over the years, time took its toll on a few drives, leaving songs and videos in various locations. Sometimes a song or video reappears.
Something had been bugging me about the Tyler Childers sessions. It has been on my mind for quite a while. The songs were in a weird folder, and I couldn't find the videos on YouTube. Come to find out, they had never been uploaded! It's hard to say what was going on at the time, sometimes in a busy week we could have 4 sessions between in-studio, The X sessions, off-site shows, and The Record Exchange.
All this time, I had assumed this session was up. What a treasure to thankfully still have the original videos and be able to upload them now! Thank you Record Exchange and Dave Eilers for sharing the raw audio for me to remix. Please enjoy Kentucky singer-songwriter Tyler Childers!
This session is from 2018, before a show he performed at Revolution Concert House. It was sold out, and people hung on his every word.
Make sure you check out his new album, "Long Violent History." It was just released last month. It's an album that takes a different look at southern values.
What a different look he has now!
Check out his website and learn more about the non-profit he supports. The Hickman Holler Appalachian Relief Fund was established in 2020 by Senora May and Tyler Childers to bring awareness and financial support for philanthropic efforts in the Appalachian Region.
We miss our Live River Sessions so very much. Listen weekdays at 4 as Tim revisits some of our favorite remixes during our "Re-Concerts."